Rising Star Hydraulics in Watertown, South Dakota is a fabricator that bends and forms steel tubing for the agriculture, commercial, automotive, and aerospace industries.
Back in 1999, Current Tech upgraded their Pines ENC 020 bender with our first BendPro control (BendPro G1). According to Plant Manager Ryan Holt, the BendPro control was chosen because the original Pines control was obsolete and no longer supported. The bender itself was in good shape and had many more years of production left.
 A unique feature of the Pines CNC benders is something called "open collet hitch feeding". This feature is supported by the BendPro software to allow virtually unlimited tube lengths to be used, even on benders with short bed lengths.

The BendPro brought new life and longevity to the machine which was then used day and night in a production environment. In 2010 (11 years later), the bender's servo motors became obsolete, so Current Tech was asked to upgrade the machine with new digital servo drives and our latest generation control—BendPro G2. Our technicians performed the installation of new digital servo drives, motors, and the BendPro G2 control system on location at the customer's facility. This eliminated the need to ship the bender off-site and reduced the amount of downtime.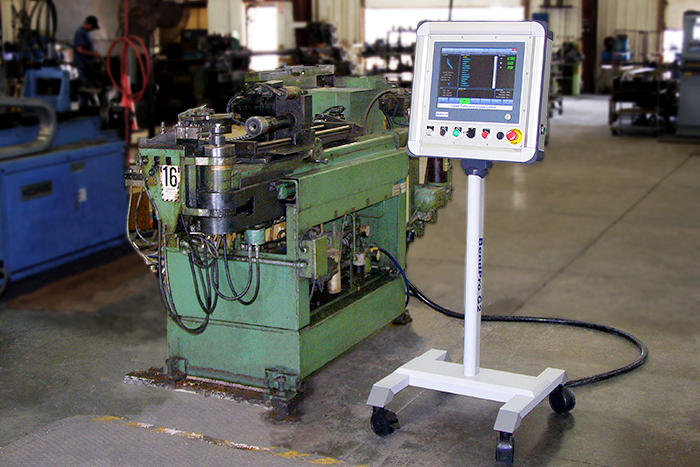 BendPro on a Pines 020 bender. 
Ryan Holt states:
"Some of the key benefits of the BendPro controls are that they are very user friendly compared to other control systems, this makes training a new operator a lot easier, the BendPro can be used on any type of CNC bender in our shop, this means that our operators only need to learn one control system, and with the new simulation software option we are able to determine up front, in the office, if a part will work on the machine without having to go out on the floor and setting up the machine."
He added, "Over the years we have enjoyed working with Current Tech and their controllers. Any time we look at upgrading a machine or buying a new one we always specify a BendPro."
In closing, Ryan said, "Current Tech's support team is always there and they do their best to get any issues taken care of as fast as they can."
Rising Star currently has 4 BendPro controls on various CNC benders. In addition, they have purchased 5 of our popular Control-A-Bend controls for use on their NC benders.