We are a general job shop tube fabrication company that serves several industries and also our parent company Tools For Bending with training, R&D, and tooling prove-outs.
We serve any industry needing tube fabrication. Some of our bending applications include medical brain drains, tourism sign posts for ski resorts, cooling coils for the death star satellites, aircraft exhaust tubes, and automotive aluminum chassis components for high end sports cars.
The original Pines Dial-A-Bend controls supplied with two of our benders were getting "glitchy" and unreliable. The benders were not performing well and were down too often. This caused us quality problems and also meant we could not keep up with production needs.
Due to the length of time that Control-A-Bend has been in the industry, we decided to give it a try on one of our benders. Current Tech installed the new control on site at our location.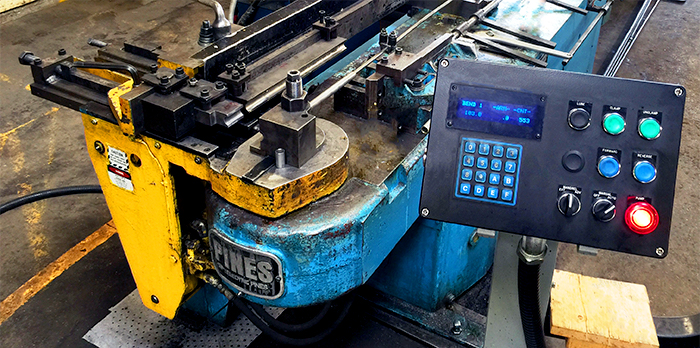 Control-A-Bend on a Pines No. 2 bender.
We've not had any down time since we had Current Tech install the new control. Control-A-Bend has proven to be easy to use and very reliable and our operators like it. The control is smaller and therefore more maneuverable than the original Pines Dial-A-Bend controls. Our operators reported that they like the real-time degree-of-bend displayed on the new controls, the Bend More feature, and the lube option. The Bend More feature allows us to correct an under bent tube and avoid scrapping it. The operator is able to enter an additional bend angle, re-clamp, and re-bend a tube.
We made the decision to upgrade the other Pines bender with another Control-A-Bend. We have not needed any support from Current Tech for either of the new controls. Our production and bend quality are back on track and everyone, including our operators are happy.
We are a high quality orientated company. You can obtain a quality certification, but it may not mean anything unless your people are all on board in regards to quality. How you really improve quality is by empowering people, giving them the tools they need to do the job. You need to provide a workplace that will stimulate a culture focused on quality. We feel that Current Tech has this culture as well.
– Written by Eric Stange, President, Denver Pipe and Tube Bending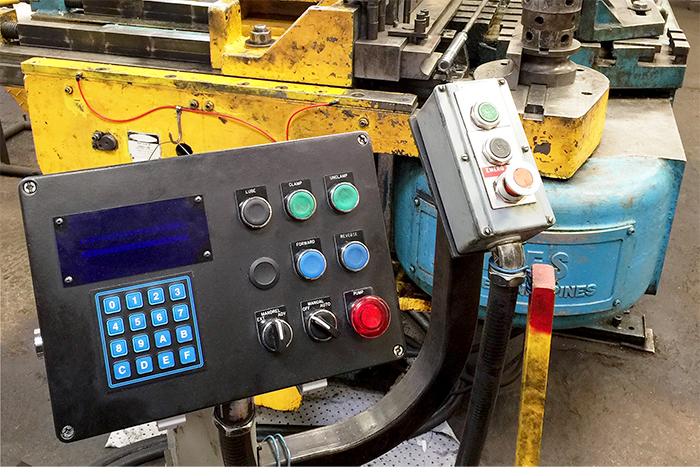 Control-A-Bend on a Pines No. 4 bender.