AP Exhaust manufactures a complete line of automotive, light truck, and heavy-duty exhaust and emissions products. Located in Goldsboro, North Carolina, their main manufacturing facility has several Eaton Leonard CNC benders that had constant control system failures. Many were to the point of being unable to be repaired.
AP Exhaust had long heard about the BendPro and decided to try it on one of their oldest Eaton Leonard benders. Current Tech installed a new BendPro control system on-site and also provided a new Carriage upgrade kit. Our Carriage upgrade kit consists of all-new digital servo drives and motors for the Y and B axes, new gear boxes, rack and pinion drive for the Y axis, etc.
The Carriage Kit replaces the original Fincor drives, motors, chains, clutches, and brakes that were supplied as original equipment on the Eaton Leonard benders. It is now possible for both the Y and B axes to move at the same time. Machine speed, accuracy, and reliability are greatly increased.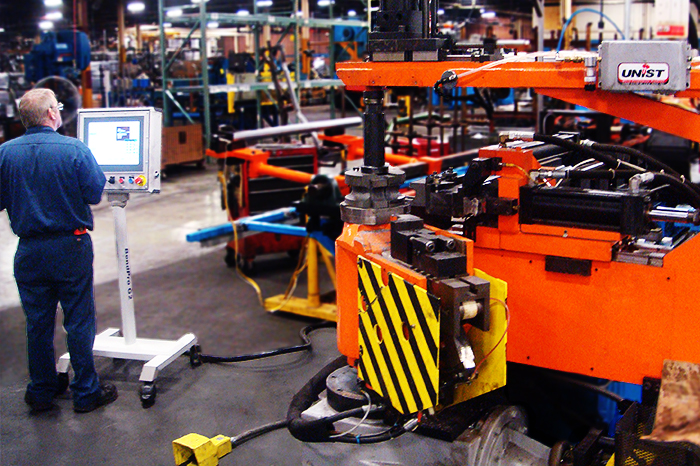 BendPro on an AMCS CNC bender with Tube Cutter
Jeremy Ellsworth, Controls Technician at AP Exhaust, had this to say:
"We decided to standardize on the BendPro because of ease of use for the operators, overall control system reliability far surpassed the other options we tried, and because of the amazing support at Current Tech.
The BendPro control system has undoubtedly saved our company unimaginable amounts of money at this point. We've been running the controls since 2006 and have cut downtime and repair costs by 80%! We did have "other" control systems in house, and none of them could hold a candle to BendPro in terms of stability, functionality, or usability. These have helped our company keep up with production demands that we previously just couldn't do.
The support of the staff has been remarkable in every aspect. You always know they're just a phone call or an email away, and they really do work as a team. You know when you contact them they will get you taken care of!
We current currently have 21 BendPro control systems at our Goldsboro facility alone.
Overall we couldn't have asked for a better control system to retrofit our benders. They have helped us keep up with increasing market demands, and better quality parts overall."